Sock and catch up...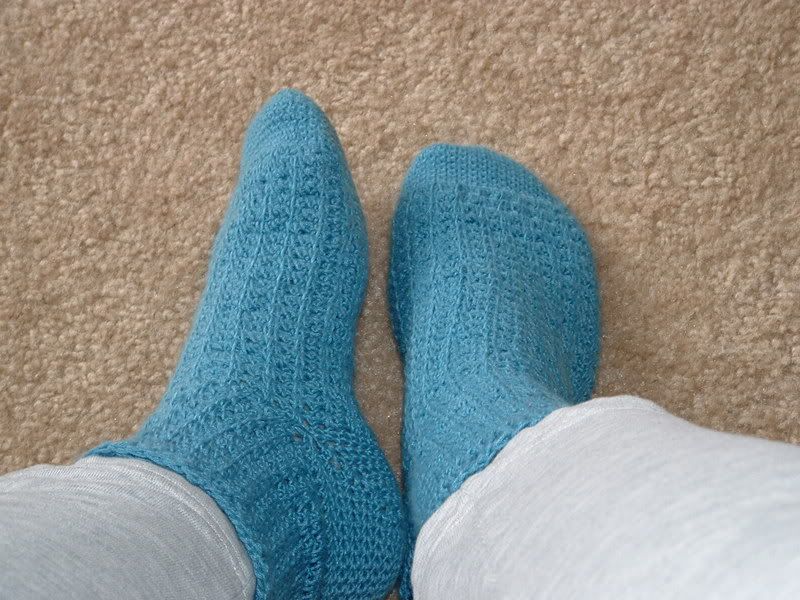 I FINALLY finished the "Pebble Sand" socks from Crocheted Socks! by Janet Rehenfeldt and Mary Jane Wood. I used DMC Senso in Denim...they turned out fine, just not as plush as normal sock yarn.

As we all know, today is the anniversary to 911. I can remember exactly where I was when that day happened. I was on the commuter train and when I walked into my fairly new job at WPWX-FM...everyone was crowded around one computer reading CNN.com and sobbing with looks of horror. Knowing the kind of emails that usually got passed around the office, I just thought it was one of those. Unforunately, No. I had been on the train for a whole hour before I knew. They were shocked I didn't know. Within an hour or two, the office received word that if we felt unsafe, we were permitted to go home. Granted we were in Chicago, but with the Sears Tower, Chicago Mercantile Exchange, and such buildings...hell no I wasn't staying. My mom downstate was very concerned, I distinctly remember the relief in her voice when I called to say,"Mom, I'm fine and on my way home." A co-worker of mine, Nauja, kindly drove me half way home when my sick hubby picked me up. Nauja has (d) a sister in the military too. While she was driving me home, she received a call from her sister that she was alright but on "stand by." ***Oh how our lives have changed since 911. In just a few moments, America has changed forever.***

To those who lost loved ones, I send my sympathy and love to you and your families.
To those who put their lives on the line for others, I thank you for your sacrifice.